The Visual Art (VISA) program provides you with opportunities to showcase your talent and participate in the university and Vancouver's wider art world.
As a VISA student, you will gain the tools and skills necessary to work professionally in the field of contemporary visual art or to pursue further studies, such as a master of fine arts or graduate work in education, architecture, law, or library and archival studies.
Faculty in the Department of Art History, Visual Art and Theory are actively involved in research and bring this strength into their teaching at all levels.
Seminars devoted to reading and writing critically about contemporary art will enhance your student experience through advanced academic and artistic research. Many VISA graduates have established distinguished careers in the creative, scholarly, and gallery fields.
The VISA program fosters critical and reflexive thinking regarding visual art within an inclusive and supportive environment. The program encourages an international scholarly perspective, treats interaction with the social sphere as an essential component of academic study, and engages with professional and community groups associated with visual art practices.
As a graduate from the visual art program in the Department of Art History, Visual Art and Theory, you will be able to:
Develop a life-long skill as a self-reflexive artist in a professional capacity.
Acquire visual literacy, understanding of materials, and technical skills to develop a critically engaged art practice.
Employ all basic components—materials, form, time, and ideas—to convey meaning in the production of artwork and affect in the act of "making" (poiesis).
Develop artistic skills in the studio laboratory's communal space where art-making and research coalesce.
Gain an art vocabulary informed by art theory and art history to draw upon when conceptualizing and making art, resulting in communicating ideas about one's work.
Process the relationship of intuition to intellect, thinking to vision, creating new links between what we see and what we know, and ultimately, new avenues for producing meaning.
Discover differences and commonalities between the realms of visual culture and that of art; critically respond through art and contemporary visual media strategies.
Communicate complex ideas about art in a broad range of forums, such as lectures, artist talks, studio critiques, group and solo presentations, writing, and conferences.
Cultivate critical modes of thinking informed by the production and study of the visual arts to formulate ideas that interrogate dominant structures and give them the capacity to make meaning.
Have an established skill base in various media, such as painting, drawing, photography, sculpture, printmaking, performance, and digital art forms, and identifying avenues to adapt/advance techniques toward developing art practice.
Bring an ethical perspective to their artistic praxis to understand the social, political, and emotive implications of art, enacting responsible citizenship through an understanding of the artist's relationship to society at large.
Integrate a range of research disciplines offered through the university into the practice of contemporary art.
Be prepared to enter the professional world of contemporary art by presenting a formal artist's portfolio consisting of artwork and artist statements that illustrate your practice development.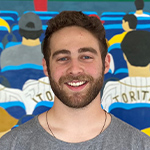 The BFA in Visual Art offered me the flexibility to explore different media and try new things that stretched my creative horizons. This allowed me to thrive during my time at UBC and beyond as a marketing professional in the fashion industry, where I draw on the different skills and experiences I gained in the Department of Art History, Visual Art and Theory.
Seth Book
BFA Visual Art + MM '20