In art history, you are introduced to the critical study of the plurality of forms of expression, both historic and contemporary, that inform the visual and built environments.
As a student in the Art History (ARTH) program, you will gain a critical foundation for analyzing visual and material culture and an in-depth understanding of media, old and new. As an art history student, you will become a critical and creative thinker who excels in analyzing and integrating different modes of knowledge and can clearly and succinctly communicate and share this information.
With an art history degree, you will be prepared for various careers in the arts and cultural heritage, education, and beyond.
Program Overview
Undergraduate coursework in art history is designed to familiarize you with the diversity of objects of research, methodological approaches, and theoretical concerns of the discipline. As an ARTH student, you are encouraged to choose courses from a broad range of geographic and historical periods to better understand the complexities of visuality and the built environment today.
Coursework is divided into lower- and upper-level courses.
Lower-level courses (100- and 200-levels) introduce ARTH students to critical issues in studying art and its histories and the role of the visual in society.
Lower-level courses may include broad chronological surveys according to the world's geographical areas or more focused case studies structured thematically and foregrounding key concerns in studying art and the visual. These courses introduce different types of objects and textual sources, tools of analysis and comparison, and basic forms of writing in the arts, preparing students for more specialized work in upper-level courses.
Upper-level courses (300- and 400-levels) include lectures and seminars where students can explore in detail specialist scholarship in a variety of art-historical subfields.
The Seminar on Methods and Approaches in Art History (ARTH 300) provides the foundation for all upper-level offerings and is a required course for majors. ARTH 300 introduces students to key debates in the discipline and focuses specifically on developing critical reading and writing skills.
Upper-level lecture courses engage critical questions in specific subfields. Topics range from surveys of cultural practices in specific contexts (such as Chinese Art for the Afterlife; and Entangled Worlds: Art in Spain and Colonial Latin America) to focused examinations of the historical development of key ideas in the theory of art (The Artist in the World), and arguments about the place of sexuality in the discipline (Is Art History Queer?). Students will encounter various assignments that involve research, different types of writing and presentation, and examinations.
The upper-level seminars (400-level) allow students to closely read and discuss key debates in a smaller group setting. Students learn about issues, approaches, and theories in the discipline through focused course readings and seminar discussions.
Students usually pursue individual research projects related to the seminar's topic. Faculty may evaluate them based on a combination of class participation, short written assignments (e.g., reading responses and reviews), and an original research component presented orally and as a research paper.
Students usually enrol in seminars after taking ARTH 300 in addition to a relevant 300-level course; if they wish to enrol in a seminar before taking a 300-level course, they should seek permission to do so from the instructor.
---
Learning and Connecting
The undergraduate program in art history at UBC offers you a dynamic learning environment. Many on-campus resources are available to you that complement the rigorous program of study. Our active undergraduate community provides opportunities for intellectual exchange and greatly contributes to students' overall experience.
Facilities
The Morris and Helen Belkin Art Gallery and the Museum of Anthropology (MOA) hold significant art collections and archives. Both regularly organize important and challenging exhibitions related to the research and teaching in AHVA.
The library supports your learning through its collections, including those of the Music, Art and Architecture Library and Rare Books and Special Collections, both housed at the Irving K. Barber Learning Centre. The Visual Resources Centre in the Department of Art History, Visual Art and Theory has significant collections of images and a dedicated film library.
These resources are used in teaching by the faculty and also provide you with ample opportunity for individual study.
Extensive programming throughout the year within the department and elsewhere at UBC supplements your learning: events include presentations, seminars from visiting scholars and artists, scholarly conferences, and exhibitions held on and off-campus.
Student Association
The Art History Students' Association offers you unique ways to connect with others and the wider community. The annual Art History Undergraduate Symposium provides a student-driven component of the program, wherein students organize the event and submit their work for review by a committee of their peers, in an environment that is both supportive and challenging.
The Undergraduate Journal of Art History and Visual Culture (UJAH) gives students an opportunity to have their work published in a student-run university journal. Students in art history have many opportunities to connect with visual art students, through coursework and extracurricular activities: AHSA and the Visual Art Students' Association (VASA) collaborate closely in organizing events throughout the school year.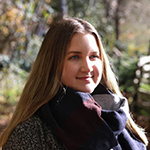 In the art history program at UBC, I found an amazingly supportive community to pursue my studies. The professors are passionate, there's a wide range of classes, and the galleries and museums on campus allow for continuous hands-on learning—as well as work experience!
Yasmine Semeniuk
Current BA in Art History Honours Student