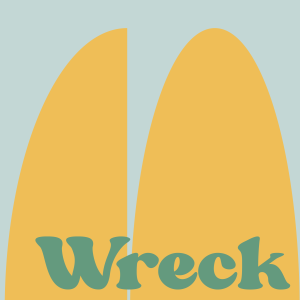 On the Threshold
---
In recent decades a number of disparities have underscored inadequacies of justice, capital, medical, and sociopolitical conditions that we now must grapple with as our relationship to space and time has been upended. We remain in a space of negotiation within society and are at a threshold for how we want to continue forwards. For this comeback issue of Wreck, we contemplate the generative possibilities of what a threshold is and what comes after it as we mediate this new world that the events of this new decade have ushered in.
In Wreck's newly revived issue we want to explore this idea of what a "threshold" is and the possibilities of transition as our own journal transitions into a new phase of its history. The space of a threshold and what it represents is difficult to define, especially as the "other side" is often undetermined and in flux. What does it mean to be on a threshold? How have images and other artifacts of visual culture responded to thresholds in present and past times, and how have these been framed historically?
A marker of time, space, and ideas, the threshold is a place of transformation; a marker of metamorphosis from one state to another. However, it can also function as a limit, a border marker where "things" can be held back or pushed through into a different state. How do two vantage points (or things) become thinkable through the space between them? How have thresholds, such as the change of a century, been communicated visually? How do anxieties of the unknown on the other side of a threshold become visualized? What imaginative possibilities do the unknowns of thresholds offer artists? How do thresholds provide spaces of negotiation for artists in times of difficulty?
Issue website: https://ojs.library.ubc.ca/index.php/wreck/issue/view/183068
Cover image: Postcommodity, Repellent Fence / Valla Repelente, 2015, land art installation and community engagement (Earth, cinder block, para-cord, pvc spheres, helium), Douglas, Arizona, U.S.A. and Agua Prieta, Sonora, Mexico, https://postcommodity.com/Repellent_Fence_English.html.
Wreck Logo by Arlee Stewart
---
Full Issue
Edited by Emily Cadger, Julia Trojanowski, and Tim McCall
---
Signalling Spanishness: Communicating peninsular Spanish identity in Antonio Rodríguez Beltrán's "María Luisa de Toledo with her indigenous companion" (c. 1670)
by Hana Nikčević
In the early modern Spanish Habsburg world, preoccupied with the attempted colonization of the Americas, the Atlantic Ocean functioned as a threshold of identity. Spaniards born in the Americas, as well as those who simply relocated overseas, were thought to be fundamentally, negatively altered by their new environment. In this paper, I argue that Antonio Rodríguez Beltrán's María Luisa de Toledo with her indigenous companion (c. 1670) seeks to communicate its sitter's 'pure' Spanishness by both associating her with Spanish royalty (through deploying a conventional Spanish mode of court portraiture) and emphasizing her whiteness (by contrast with the darker complexion of the indigenous woman, in a historical moment wherein white skin was associated with Spanish purity and superiority). First, I outline the history of hosting and portraying little people at the Spanish court, concluding that, in deploying this established pictorial genre, María Luisa's portrait associates her with historical Spanish royalty. I also summarize the intended utility of the genre as a means of communicating physical contrast. Second, I discuss Spaniards' perceptions of indigenous American, African, and mixed-race people as well as creoles (criollos, Spaniards born in the Americas) in the Spanish Americas to explain the rationale behind my overall conclusion: within the context of Spanish colonialism and emergent, racially-inflected notions about Spanish superiority, María Luisa de Toledo with her indigenous companion is intended to portray its sitter as 'purely' Spanish, an identity not only communicated through the association with Spanish royal portraiture, but also keyed to whiteness and, thus, emphasized in this painting via María Luisa's physical (namely, epidermal) contrast with her indigenous companion.
---
Abjection in contemporary Black Feminism: An Intersectional Approach in Doreen Garner's Red Rack of Those Ravaged and Unconsenting
by Yoobin Shin
Brooklyn-based African American artist Doreen Garner (b. 1986)'s recent sculptural assemblage, Red Rack of Those Ravaged and Unconsenting (2018) visually reiterates the history of medical experiment on enslaved Black women's bodies conducted by white doctors in the United States from 1845 to 1849. Sculpturing the dismembered bodies of Black women in a realistic, yet grotesque manner, Garner expresses her intersectional identity of being a woman and Black in the American contemporary art scene. In this paper, the author argues that through Red Rack of Those Ravaged and Unconsenting, Garner attempts to engage with Julia Kristeva's notion of abjection to unsettle viewers, typically white male and female, as well as white feminists, by evoking two histories of America: the history of Black slavery in the nineteenth century and the history of feminist art practice in the 1980s. Instead of fully embracing Kristeva's theory of abjection from the Anglo-feminist perspective which has dominated theoretical discourse on the pursuit of the female subjectivity since the 1980s, Garner rather takes up the limitations that came out from their feminist research into her sculpture to contest her viewers in reading her work of art from the position of contemporary Black feminist.
---
Spaces Unknown: Articulations of Suburban Normativity and Alterity in James Wan's Insidious (2010)
by Marcus Prasad
This article explores the representation of the suburban house and the concept of suburbia as a space of social normativity in the American and Canadian context following World War II. I pursue this line of investigation by analyzing a work of horror film that questions and disrupts this distinct space – James Wan's Insidious (2010). The following reveals the unique means through which this work exposes a decades-long disdain held toward postwar suburban development and its deep ties to normativity by closely examining how Wan represents the space of the home and its subsequent undoing. I thread works of queer theory within my analysis to act as a guiding framework through which the productivity of the film's represented ulterior space may be read and understood.
Drawing from spatial and temporal theory primarily, I articulate how normativity is formed in the space of the suburbs through structured rhythms, movements, and gestures that become attributed to the heterosexual, white, middle- to upper-class family. This investigation is followed by a methodology that adopts from queer theory a process of estrangement, a deviation from the normative space of the suburbs that seeks to disrupt and challenge existing scripts within dominant social frameworks unique to horror film. As such, this article provides a new method through contemporary horror film may be analyzed, away from canonical or genre prescriptions, and toward the productive potential of spaces considered to be ulterior.
---
Indigenous Sovereignty and the Border: Postcommodity's Borderlands
by Kristina Parzen
In the United States, a border's function is to demarcate the limits of territory at the domestic and international level. This view is based on the assumption that territory is a possession to be controlled and comes to be defined by the dominating group that occupies the space inside the border. This framing of the border is rooted in the United States settler colonial history. When examining this history in relation to the impact that the U.S.-Mexico border has had on borderlands communities and Indigenous peoples specifically as part of these communities, we can see that borders exist in both physical and ideological space. The physical and ideological presence of borders has major implications for Indigenous sovereignty, self-determination, and identity. This paper will examine three successive works of the interdisciplinary arts collective Postcommodity. Their work and artistic practice engages with border politics and border impacts that are part of the ongoing challenge and critique of the effect borders have on the Indigenous peoples in the area of what is now referred to as the Southern United States in North America. These works, Repellent Fence (2015), A Very Long Line (2016), and Coyotaje (2017) focus on border and borderland (the area around the border) spaces. The movement of people across borders through migration, the border as a site of and for American nationalism, the border as part of a trade network (globally, locally, and historically bound to traditional Indigenous trade routes), and the border as a space that weaponizes Indigenous knowledges are just a few of the conversations that Postcommodity engages with in these works. This paper aims to contribute to the overarching conversation about the U.S.-Mexico border while providing further insight into this border's disruption of Indigenous sovereignty and identity. It further addresses how Indigenous artists such as Postcommodity are responding to and working to resist this disruption. In doing so, I will argue that the physical and ideological border, which divides collective bodies from each other simultaneously works to oppose Indigenous sovereignty.