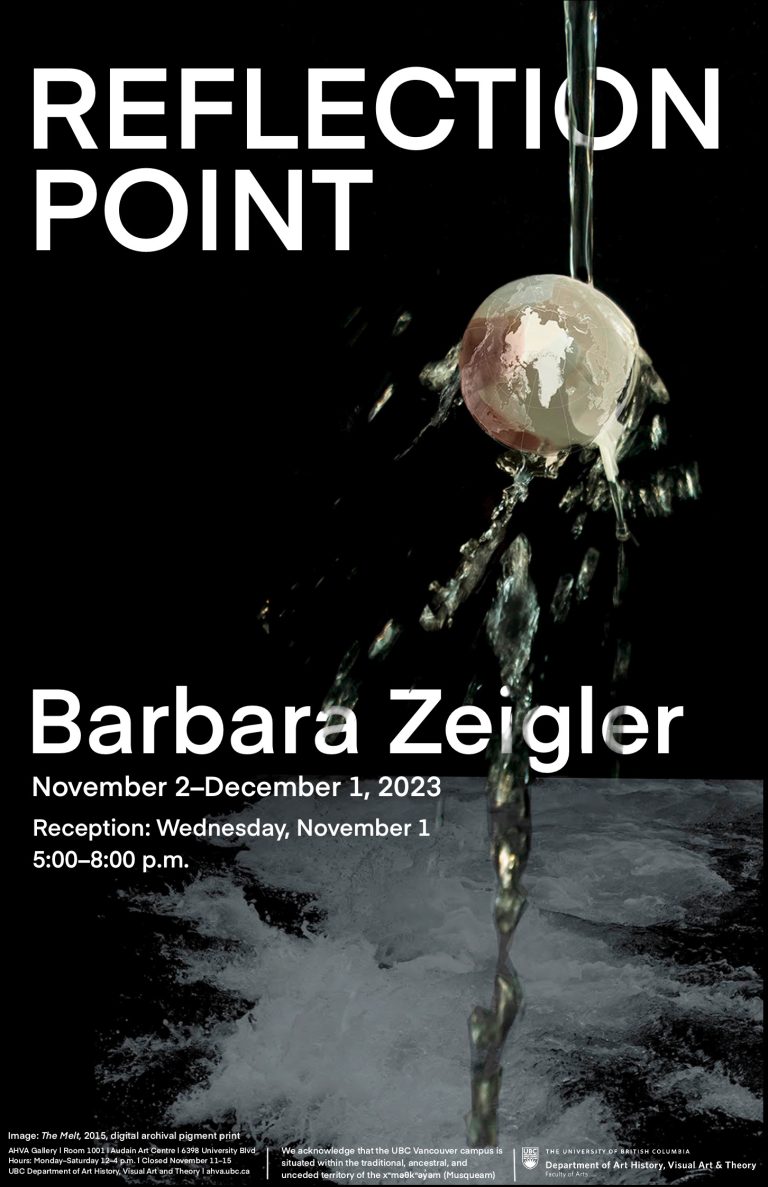 Please join us at the AHVA Gallery for AHVA Emerita Professor Barbara Zeigler's retrospective exhibition Reflection Point, opening November 1 at 5:00 p.m.
This exhibition presents a selection of work Zeigler completed over the past five decades broadly focused on the ever-shifting relations between ecosystems and human cultural structures. Early works from the 1970s dealt with Zeigler's initial recognition of issues related to environmental degradation. As Zeigler began to more profoundly understand the precariousness of human existence, the importance of appreciating the interrelatedness of all life forms and human actions, and the delicate balance that must be maintained, the early 1980s brought in a more introspective print and drawing phase. Assuming a different vantage point to contemplate the many related issues, the Earthmakers project during the 1990s involved a large-scale study and collaborative print installation undertaken with Joan Smith, focused on the soil fauna inhabiting one square metre of old-growth forest soil on northern Vancouver Island. These works were followed in the 2000s and 2010s by further excursions on land in the interior of BC and by water up the coast. Printed works from this period may be seen in the Fraser River, Adams River, Journey's Junction, and the Past Desire Catches the Cloaked Present series. More recent works have dealt with concerns such as time and change, as evidenced in the three-channel video Passages and the print Change. Both works function somewhat as mesmerizing metronomes, setting intervals of time, reflection points regarding climate change, the insufficient proactive action of humanity, and the need for equitable structural change.
Zeigler received her BFA in painting and her MFA in printmaking from the University of Illinois. She taught at UBC for forty-one years, mentoring generations of student artists at the undergraduate and graduate levels, and was central to keeping the practice of printmaking vital through establishing the Print Media Research Centre in the department in 2003. Although her main area of expertise is printmaking, over the years she also taught courses focused on drawing, painting, photography, and installation and designed the first digital-imaging course in the department, all of which often interfaced in some way with print media.
Zeigler's artworks have been widely exhibited internationally including recent invitational exhibitions such as the Third and Fourth International IAPA Printmaking Biennales, Kunming Museum, Yunnan Province (China), 2020 and 2022; II international Triennial of Contemporary Graphic Art, Novosibirsk State Art Museum, Novosibirsk (Russia), 2018; International Print Exhibition: Canada and Japan, exhibited in 2016–17 in Kyoto and Tokushima (Japan), Edmonton (Alberta), and Regina (Saskatchewan); Circumference and Radius, a traveling exhibition of international artists, 2015–17; Ritual and Change, a 2015 solo exhibition at the Renke Art Gallery, Hangzhou (China); and the 2013 International Print Triennial Kraków interfaces-istanbul (Turkey), and In.Print.Out, Vienna (Austria).
Learn more about Barbara Zeigler and her work.
November 2–December 1, 2023
Opening reception: Wednesday, November 1, 5:00–8:00 p.m.
AHVA Gallery
Audain Art Centre, 6398 University Boulevard, Vancouver
Gallery hours: Monday–Saturday, 12:00–4:00 p.m.
Gallery will be closed from November 11 to 15, 2023 for reading break
The artist will be present at the opening and Saturdays, November 4, 18, and 25, 1:00–4:00 p.m.
We acknowledge that the UBC Vancouver campus is situated on the traditional, ancestral, and unceded territory of the xʷməθkʷəy̓əm (Musqueam).
Image: The Melt, 2015, digital archival pigment print