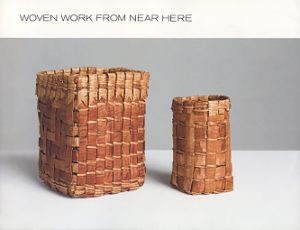 Inspired by traditional weaving practices—including Indigenous methods for weaving blankets and baskets alongside structures and patterns that have come from elsewhere—the exhibition presents recent experiments by artists who live and work near here. Juxtaposing materials and methods, the works in the show stretch what it means to be a woven textile.
The curators understand being "near here" as a spatial and temporal condition that defines the region currently known as the Pacific Northwest—a mesh of overlapping Indigenous and Settler cultures, legal-political systems, and territories. To live, work, and weave near here is to contend daily with the legacy of colonial settlement and expropriation. Marked by the dislocation of Indigenous weaving traditions between the early decades of the 20th century and the 1980s—decades after the Potlatch ban in Canada was lifted in 1951—the region has seen the re-emergence of this conceptual, functional, aesthetic and spiritual form. At once capacious and precise, new developments in weaving signal the potential of this practice to realign protocols and values.
Included in the show are works by artists Debra Sparrow or θəliχʷəlʷət, Gabrielle L'Hirondelle Hill, Hank Bull, Jovencio de la Paz, Kerri Reid, Matt Browning, Melvin Williams, and Merritt Johnson.
For more information: https://grunt.ca/exhibitions/woven-work-from-near-here/