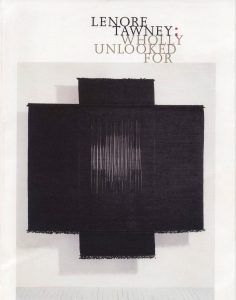 Catalog of a collaborative exhibition held at The Maryland Institute College of Art in Baltimore, December 7, 2012 through March 17, 2013, and The University of the Arts in Philadelphia, January 17 through March 2, 2013.
A major figure in the fiber movement of the 1950s and 1960s, Lenore Tawney redefined the possibilities of weaving and led the way toward the explosive growth of fiber art in subsequent decades. She created a new vocabulary for textile works by subverting the typical woven grid and inventing new ways of weaving beyond the traditional boundaries of the loom. In order to emphasize the sculptural qualities of her works, Tawney maintained that they hang in space rather than against the wall.
" … the first solo exhibition of Tawney's work since her death in 2007, the first public display of several works and objects, and the first collaborative exhibition organized by these two art and design colleges."–Page 3.