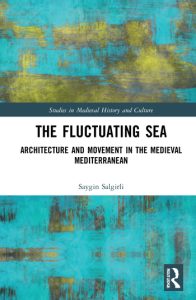 This volume fluctuates between conceptualizations of movement; either movements that buildings in the medieval Mediterranean facilitated, or the movements of the users and audiences of architecture.
From medieval Anatolia to Southern France and the Genoese colony of Pera across Constantinople, The Fluctuating Sea investigates how the relationship between movement and the experiences of a multiplicity of users with different social backgrounds can provide a new perspective on architectural history. The book acknowledges the shared characteristics of medieval Mediterranean architecture, but it also argues that for the majority of people inhabiting the fragmented microecologies of the Mediterranean, architecture was a highly localized phenomenon. It is the connectivity of such localized experiences that The Fluctuating Sea uncovers.
The Fluctuating Sea is a valuable source for students and scholars of the medieval Mediterranean and architectural history.
For more information: https://www.routledge.com/The-Fluctuating-Sea-Architecture-and-Movement-in-the-Medieval-Mediterranean/Salgirli/p/book/9780367608460