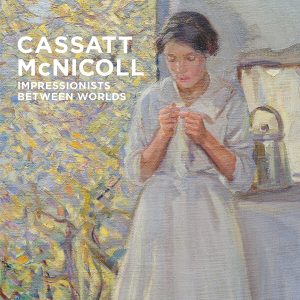 This groundbreaking book brings together for the first time the work of two pioneering women Impressionist painters: the American Mary Cassatt and her Canadian contemporary Helen McNicoll. Renowned for their depictions of modern womanhood, their work had a profound impact on the development and proliferation of Impressionism in North America.
Educated in Philadelphia and Montreal respectively, Cassatt and McNicoll both left North America for Europe in their early twenties to study and pursue art professionally. Cassatt was an original member of the Impressionist movement in Paris, and a generation later, McNicoll contributed to the movement's evolution and spread around the globe. Posthumously, history came to know them as painters of women and children, yet their work has a far more nuanced relationship with themes of womanhood and maternity than such labeling has allowed.
Featuring essays by Caroline Shields, Nicole Georgopulos, Samantha Burton, and Julie Nash and richly illustrated with over 100 reproductions, including previously unpublished images from Helen McNicoll's sketchbooks, Cassatt – McNicoll shines a long overdue spotlight on two trailblazing artists.