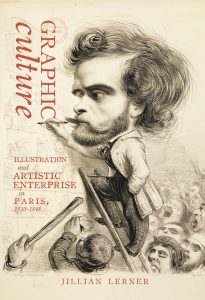 Nineteenth-century Paris is often celebrated as the capital of modernity. However, this story is about cultural producers who were among the first to popularize and profit from that idea. Graphic Culture investigates the graphic artists and publishers who positioned themselves as connoisseurs of Parisian modernity in order to market new print publications that would amplify their cultural authority while distributing their impressions to a broad public.
Jillian Lerner's exploration of print culture illuminates the changing conditions of vision and social history in July Monarchy Paris. Analyzing a variety of caricatures, fashion plates, celebrity portraits, city guides, and advertising posters from the 1830s and 1840s, she shows how quotidian print imagery began to transform the material and symbolic dimensions of metropolitan life. The author's interdisciplinary approach situates the careers and visual strategies of illustrators such as Paul Gavarni and Achille Devéria in a broader context of urban entertainments and social practices; it brings to light a rich terrain of artistic collaboration and commercial experimentation that linked the worlds of art, literature, fashion, publicity, and the theatre.
A timely historical meditation on the emergence of a commercial visual culture that prefigured our own, Graphic Culture traces the promotional power of artistic celebrities and the crucial perceptual and social transformations generated by new media.
For more information: https://www.mqup.ca/graphic-culture-products-9780773554559.php