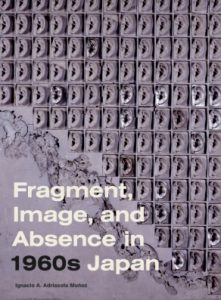 This groundbreaking book examines how the notion of "the object" was transformed in Japanese experimental art during a time of rapid social, economic, and environmental change.
Reviving the legacies of the historical avant-garde, Japanese artists and intellectuals of the 1960s formulated an aesthetics of disaffection through which they sought to address the stalemate of political and aesthetic representation. Ignacio A. Adriasola Muñoz draws from psychoanalytic theories of melancholia to examine the implications of such an approach, tracing a genealogy of disaffection within modernist discourse. By examining the discursive practices of artists working across a wide range of media, and through a close analysis of artwork, philosophical debates, artist theories, and critical accounts, Adriasola Muñoz shows how negativity became an efficacious means of addressing politics as a source for the creative act of undoing.
In examining ideas of the object advanced by artists and intellectuals both in writing and as part of their artwork, this book brings discussions in critical art history to bear on the study of art in Japan. It will be of interest to art historians specializing in modernism, the international avant-garde, Japanese art, and the history of photography.
From the author:
-What is the book about?
Fragment, Image and Absence discusses the transformation of the notion of object in experimental art and photography in 1960s Japan. In this decade, Japan experienced massive political, social, economic and environmental changes, which continue to affect the country today. Prompted by these shifts, artists and critics explored different ways in which art could engage or resist such changes. Japanese artists turned to an intense interrogation of the very nature of the concept of the object—which is classically defined as a distinct, stable entity separate from other entities, including the subject. Instead, they posited a visual language based on ambivalence and ambiguity. In the process of developing a formal language through which they could engage their changing conditions, these artists developed an entirely original critique of modernity.
-Why did you write about this?
I initially became drawn to this material while living in Japan in the early 2000s. Seeing work from this period featured prominently at various important surveys, I was struck by the plurality of materials, subject-matter and approaches to artistic creation that I saw, and the fact that I found their work so difficult to reconcile with the critical paradigms I was familiar with at the time. I started drawing connections between various figures, and more generally realized that even when specific individuals were not necessarily working together, they appeared to share a similar aesthetic, or affect. I then became invested in describing this affect. This question carried me through my doctoral work, and then onward, as I attempted a more comprehensive understanding of what this affect was. This book is the result of my sustained effort to unpack this material.
For more information: https://www.psupress.org/books/titles/978-0-271-09290-4.html