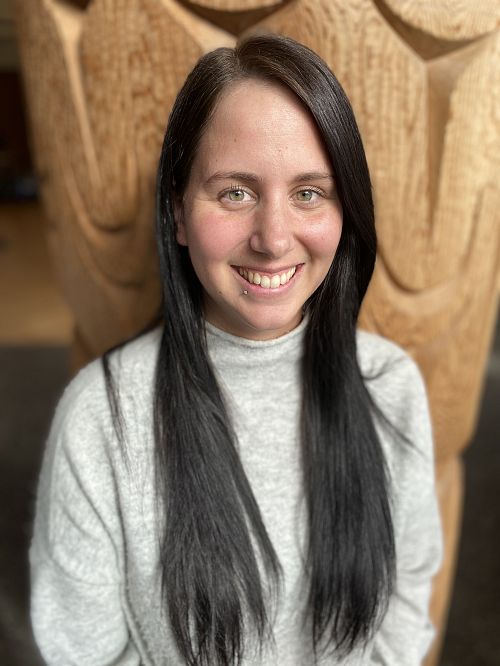 The Department of Art History, Visual Art and Theory (AHVA) at the University of British Columbia is pleased to announce Diamond Point (Musqueam) as the new Koerner Artist in Residence. During her residency (September 1 to December 31, 2022), Point will be working in a studio at the Audain Art Centre, present work as part of the Faculty and Staff Exhibition at the AHVA Gallery, and give a public artist talk on her work on October 19, 2022 at 5:30 p.m. in Lasserre 104.
"What appeals to me most about the residency is the opportunity to connect with myself as an artist and Musqueam person. Being at UBC, in proximity to my home community, it feels like home. The residency will provide opportunities to convey, to faculty, students, and the UBC community, the longstanding history and connections that Musqueam people have to this territory. Any opportunity to teach this and to bring aspects of history and language into awareness, through my work, is what drives me as an artist."
Diamond Point is an artist and educator. She was born and raised on the Musqueam First Nation, and is currently based in Ladner. She is a graduate of UBC's Indigenous Teacher Education Program in the Faculty of Education, and leads Indigenous governance learning at West Point Grey Academy as the Indigenous Education Coordinator. Point has been involved with numerous cultural mentorship programs, such as the Native Youth Program at the Museum of Anthropology, Gathering Our Voices workshops, and, more recently, a Canoe Awakening Ceremony with Delta School District. At West Point Grey Academy, Point teaches Contemporary Indigenous Studies 12 and Social Studies 10.
Point's recent projects have often been site-specific and developed for installation in the public sphere, reaching broad audiences. Her works incorporate Musqueam and Coast Salish design elements passed down from her ancestors since time immemorial, while addressing issues of territorial justice and protocols that continue to the present day. Point's recent public banner work, wəɬ m̓i ct q̓pəθət tə ɬniməɬ, was exhibited as part of the exhibition Soundings at the Morris and Helen Belkin Art Gallery in 2020, and remained in place until September 2022. The banners were hung in a sequence on the lampposts along UBC's Main Mall from James Hart's Reconciliation Pole to the plaza just beyond the Belkin Gallery. Incorporating the visual motifs of raised canoe paddles, the work harkened the traditional protocol of visitors to the land identifying themselves and awaiting permission and welcome before coming ashore.
Diamond Point's work has been recently exhibited at the Museum of Anthropology, Totem Park Residences, Patagonia Vancouver, Vancouver Art Gallery, Vancouver Mural Festival, Morris and Helen Belkin Art Gallery, and Capture Photography Festival.
The Koerner Artist in Residence Program in the Department of Art History, Visual Art and Theory is made possible by the generous support of the Koerner Foundation and a private BC-based foundation. Past Koerner Artists in Residence were Germaine Koh, Stan Douglas, and Marianne Nicolson.