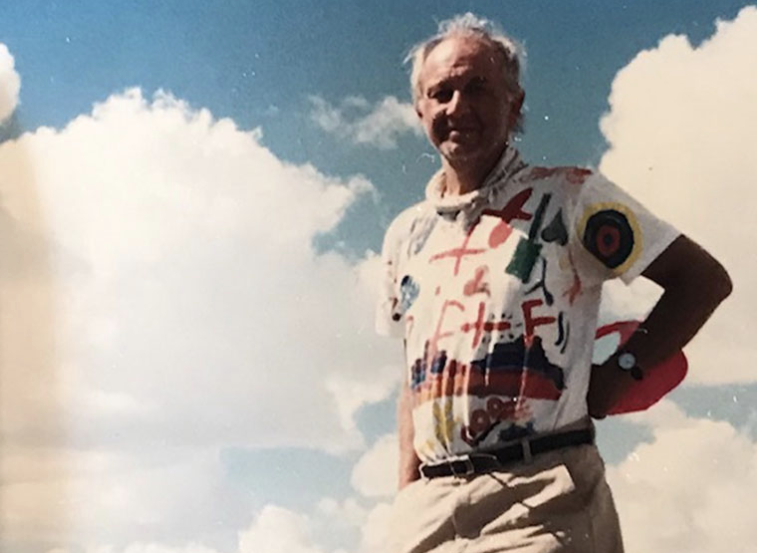 From John O'Brian, Professor Emeritus
Remarks on Andrew Gruft, at the request of Dana Claxton
October 3, 2021
Andrew Gruft was a friend and fellow traveller. He was also a friend of the department and the Belkin Gallery. As an advocate for art and architecture, which he taught at UBC, he was outspoken. He rarely pulled his punches. If he felt strongly about an issue, he could be fierce. In the 1980s, he introduced me to backpacking in British Columbia and the American Southwest and on hikes into the mountains we would talk – sometimes heatedly – while moving from one campsite to the next. Sometimes, we were surprised by the amount of ground we covered conversationally as well as on foot. Our walks became less adventurous in recent years but the conversation was just as combative.
Born in Poland, he arrived in Vancouver from Cape Town by way of Rio de Janeiro. He was multi-lingual, cosmopolitan. With his partner, Claudia Beck, he opened the NOVA Gallery in 1972. It was the first commercial gallery devoted to photography in Vancouver and championed the work of both international and local photographers. Several of the local photographers they exhibited, such as Ian Wallace and Jeff Wall, had close ties to the department. The same is true of many of the artists and photographers whose work they acquired for their own collection over the course of fifty years. In that period, they built one of the most extensive and highly personal collections of historical and contemporary work in Canada. The collection is full of unexpected and fascinating corners, not unlike my hiking companion.
---
From Scott Watson, Professor
Andrew wasn't just only sweet, he was vibrant, caustic, confrontational and yes, often disarmingly sweet. He and Claudia were/are a force. Their Nova Gallery was the first to show Jeff Wall and Rodney Graham and they amassed a very important collection of photographs, most of which are now the spine of the VAG's historical holdings. They consistently purchased work and talked about young artists. They worked as a team, so theirs is a grand love story of accomplishing something great together. They are key figures in Vancouver's much celebrated engagement with photography.
Andrew, as an architectural historian was an active scholar of contemporary Canadian architecture through exhibitions and writing. He was, of course, a great friend of the department, as he was so involved in the local art world. He had a sharp critical mind, which was often directed at the university. Unencumbered by the Canadian tendency for passive acquiescence, Andrew spoke his mind.
His intellectual passions for architecture, photography and young artists made one realize that these things are connected; they are about how we might live together and imagine a future. I can't speak to how the architectural community views those contributions, but in my view, Andrew was stalwart in getting art galleries to do architectural exhibitions. And I know this was and is an uphill battle. I will remember Andrew as someone who wanted the place he came to to be a better place.
---
From Dana Claxton, Head and Professor
In 2019, I had the great pleasure of sitting next to Andrew Gruft at a dinner for Cindy Sherman that the Vancouver Art Gallery was hosting; this was the only time we had an in-depth conversation. Although, from afar, for a few decades, I would admire him and Claudia Beck for their style, generosity and commitment to Vancouver art and photography. He is the best person to sit next to at dinner – we discussed art, geo-politics, literature and transatlantic diaspora. He was a man of great intellect, playfulness and as I stated to Scott Watson, so sweet! Andrew was ever committed to viewing art in this city and to supporting local artists. The last time I saw him was earlier this year at Thought Outside at the Western Front curated by Amy Kazymerchyk, Critical and Curatorial Studies alumna.
The Department of Art History, Visual Art and Theory extends our deepest gratitude to Andrew Gruft for his long liaison with our department and his many friendships here. We are grateful to have been able to include a text by him and Claudia Beck in our recent exhibition brochure for Barrie Jones: Vancouver Work. Our heartfelt condolences to Claudia Beck and his loved ones. Donations may be made to The Polygon Gallery, specifically to The Andrew Gruft Fund for Photography Exhibitions thepolygon.ca/andrew-gruft.
---
Vancouver Sun and The Province have published an obituary here.