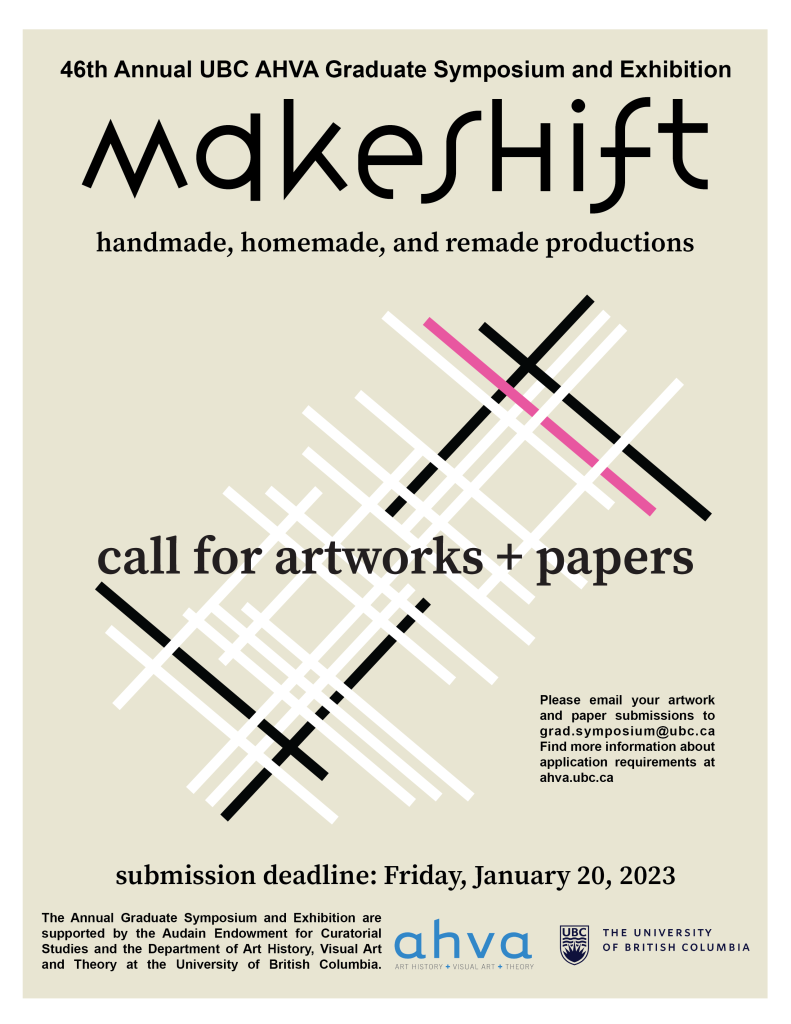 CALL FOR ARTWORKS | DEADLINE FOR SUBMISSIONS: Thursday, January 26, 2023
EXHIBITION DATES: Friday, March 3 to Friday, March 31, 2023
With the current rise of artificial intelligence and machine made objects, our own productive capacities are threatened with erasure. Mindful of this phenomenon, we want to re-emphasize the human made. The committee for the 46th annual UBC AHVA Graduate Symposium has themed this year's event MakeShift: handmade, homemade, and remade productions. Through this theme, the committee hopes to centralize artists who engage in processes of making that work against or exist outside of purely productive labour practices. This exhibition will serve as a space for artworks that have tangible stakes or tactile formal qualities, or which employ the strategic use of physical materials in their composition. The intention behind the MakeShift exhibition is to give a platform to producers who have not been canonized into contemporary art scenes and have felt sidelined by various institutional frameworks. The committee is looking to approach the theme through an interdisciplinary and intergenerational lens, accepting works that use any and all mediums.
POTENTIAL THEMES:
handmade or homemade artistic methods
spaces of domesticity
craft-making
artists' labour in art making
collaborative, community-based art
critiques on institutional views of "high art"
gendered labour
processes of remaking or redoing
process-based artworks
film and photographic alternative processes
do-it-yourself techniques
anti-capitalist practices
 
HOW TO SUBMIT:
Artists are asked to submit their application* via email to grad.symposium@ubc.ca by Thursday, January 26, 2023 at 11:59PM PST. In a single (1) PDF file, the applicant must submit up to 10 images of their work (or link to up to 10 minutes of video work), along with an artist statement or project description (200-250 words), description of materials used in submitted artwork, biographical statement (100-150 words), a copy of the applicant's current abbreviated CV, and a short paragraph speaking to how the work is related to the theme of this year's symposium (100-150 words). The applicant should also include their name, gender pronouns, and complete title of the submitted artwork in the body of their email.
Please note that work submitted to this call for art will be included in an in-person exhibition taking place on UBC Vancouver campus from Friday, March 3 to Friday, March 31, 2023.
Therefore, the submitted work must be available to be brought or shipped to UBC Vancouver campus in time for installation and remain there for the duration of the exhibition.
*Submit one application per artwork; do not submit multiple artworks under the same email application.