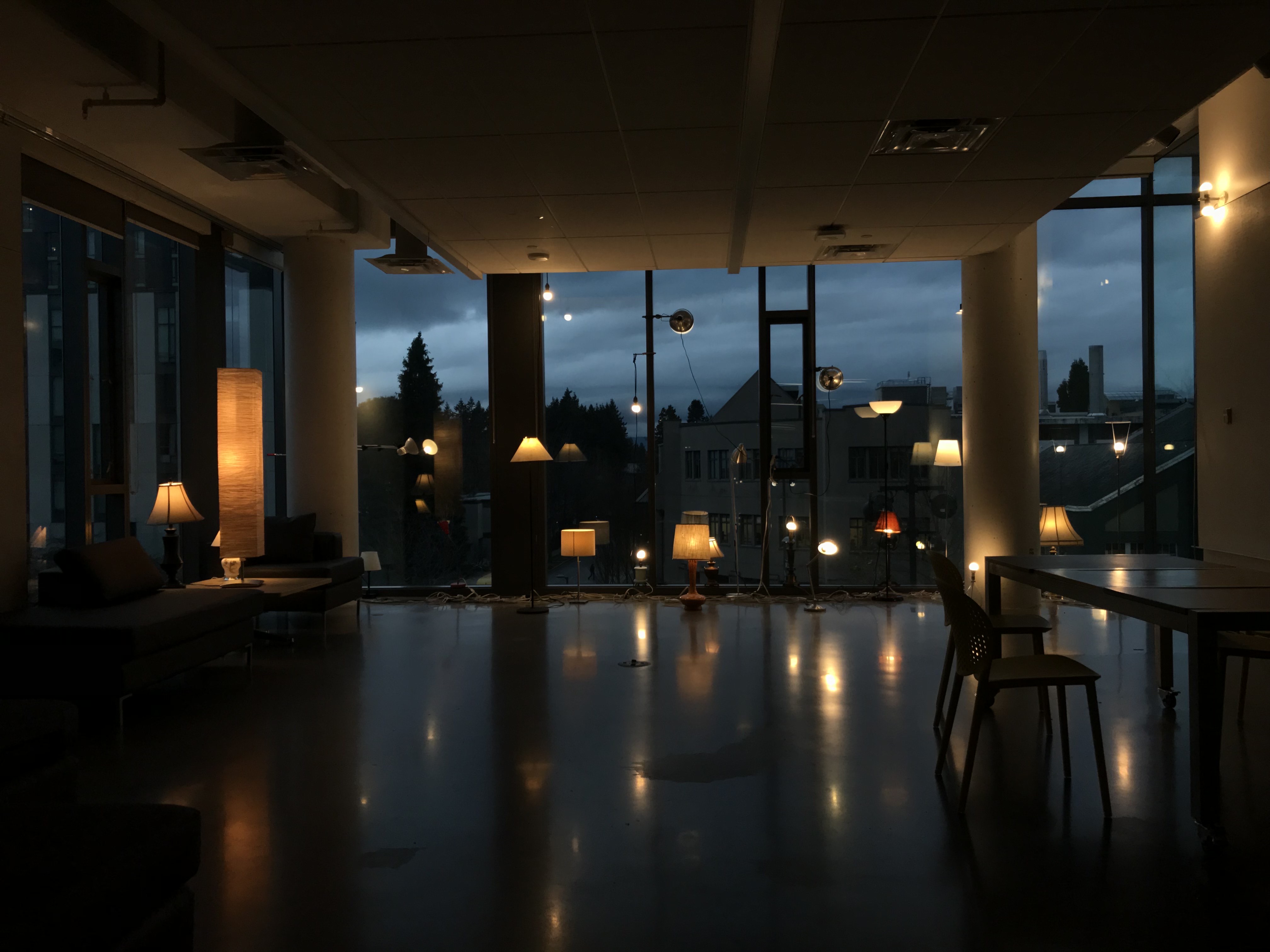 Audain Art Centre, 3rd Floor Lounge
6398 University Boulevard, University of British Columbia
November 24, 2021 to January 14, 2022
The Department of Art History, Visual Art and Theory at the University of British Columbia is pleased to announce an exhibition and site-responsive re-configuration of Germaine Koh's 2013 installation The Haunting.
A collection of old household lamps gathered from donations and thrift store shelves creates a cloud of light. The sounds and vibrations of human presences, picked up by a variety of sensors, sparks the uncanny flickering of lights. These unfashionable everyday objects, many burdened by age or ugliness, are revitalized and brightened by their visible receptivity to the energy that haunts the space.
On view 24 hours per day from the exterior of the building, through the north-facing windows, the installation engages with multiple campus publics including passersby; AHVA students, staff, and faculty; and residents in adjacent student housing. The Haunting II is curated and coordinated by students Pamela Aracena Velazquez, Ece Asitanelioglu, Héloïse Auvray, Olivia Cox, Zoë Eshan, Naomi Etukudo, Haya Faruqui, Violetta Lapinski, Siyi (Pebble) Shi, and Audrey Tulus, supervised by Professor Althea Thauberger, and in collaboration with the 2021 Koerner Artist in Residence, Germaine Koh.
Germaine Koh, 2021. The Haunting II. https://germainekoh.com/works/the-haunting
The Koerner Artist in Residence Program in the Department of Art History, Visual Art, and Theory is made possible by the generous support of the Koerner Foundation and a private BC-based foundation.
The curators are grateful for the technical and administrative support of the Department of Art History, Visual Art and Theory, and for the many lamps donated by the community to realize this project.
We acknowledge that the presentation of The Haunting II takes place on the traditional, ancestral, and unceded territory of the xʷməθkʷəy̓əm (Musqueam).
Visitor information: All are welcome to view the installation from the exterior of the building 24 hours per day. The interior installation on the 3rd floor is accessible to visitors from 12:00 to 4:00 pm, Monday to Friday until December 17, 2021 and January 4 – 14, 2022.  COVID-19 prevention protocols in effect, subject to the current COVID-19 campus rules. Face coverings (a medical or non-medical mask, or a tightly woven fabric) are required for all indoor public areas at UBC Vancouver.