AHVA Gallery
Room 1001 Audain Art Centre
6398 University Boulevard
Vancouver
Opening reception:
Wednesday, September 27
5:00 – 7:00 pm (artists will be in attendance)
Artist talks by Athena Papadopoulos and Ryan Peter:
Thursday, September 28
12:30 pm
Featuring work by:
Sean Alward
Steven Hubert
Nick Lakowski
Athena Papadopoulos
Ryan Peter
Carolyn Stockbridge
Tia Whitten
Co-curated by Marina Roy and Phil McCrum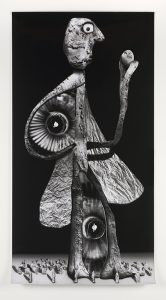 Diviners can mean a person who practices divination, channels energies, and predicts events in future; but it can also point to persons who are able to divine for water or minerals underground, or discover things by intuition. They connect with these elements in order to convey affects, intuitions, repressed histories and desires, and new concepts. Tapping into the mineral intelligence of paint can be understood to resist the primacy of ratiocentrism and language in our culture. In this respect, the paintings in this exhibition demonstrate the turn toward materiality in thinking about painting and how, through the medium of the painter, one can come to think about the animistic qualities permeating the material world, whether that be from a geological perspective, biological, the microscopic, the virtual, existential or the minutia of commodity detritus. Each artist's work is an evidentiary example of a close examination of the 'things' that make up the world.
Artist talks:
Athena Papadopoulos was born in Toronto, CA in 1988 and lives and works in London. Following her BFA at the University of British Columbia (Vancouver, CA), she completed her MFA at Goldsmiths (London, UK) in 2013. Recent exhibitions include The Smurfette, Emalin (London, UK, 2017); Belladonna's Muse, curated by Samuel Leuenberger, CURA Basement Roma (Rome, IT, 2017); Wolf Whistles, Shoot the Lobster NY (NYC, USA, 2017); Streams of Warm Impermanence, David Roberts Art Foundation (London, UK, 2016); Wild Style, Peres Projects (Berlin, DE, 2016); Bloody Life, Herald St., London, UK, 2016); and Natural Instincts, Les Urbaines (Lausanne, CH, 2015).
Ryan Peter holds a BFA and MFA, both from the University of British Columbia, Vancouver. He was a semi-finalist in the 2009 RBC Painting Competition, and his work has been included in recent exhibitions at Presentation House Gallery (Satellite Gallery), Vancouver; Susan Hobbs, Toronto; Platform Centre for Photographic and Digital Arts, Winnipeg; and the Vancouver Art Gallery.
image credit: Ryan Peter, Apple Orange Orange Apple, 2016, black and white photogram, 42 x 80