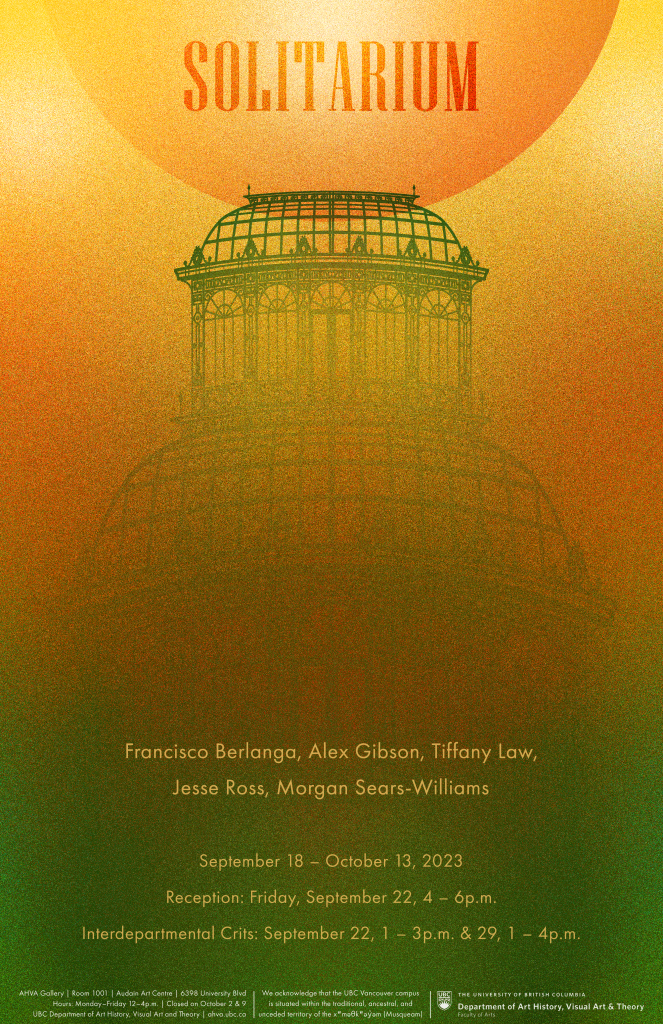 The Department of Art History, Visual Art & Theory at the University of British Columbia (UBC) presents Solitarium, the annual exhibition of new work by the 2nd–year Master of Fine Arts in Visual Art cohort. The exhibition takes place at the AHVA Gallery in the Audain Art Centre from September 18 to October 13, 2023.
Solitarium
With works by Francisco Berlanga, Alex Gibson, Tiffany Law, Jesse Ross, and Morgan Sears-Williams.
September 18 – October 13, 2023
Opening reception: Friday, September 22, 4 – 6 p.m.
Interdepartmental Crits: September 22, 1 – 3 p.m. & 29, 1 – 4 p.m.
AHVA Gallery
Audain Art Centre, 6398 University Boulevard, Vancouver
Gallery hours: Monday – Friday, 12 – 4 p.m.
Closed on October 2 & 9
Positioning the structure of a solarium as a container for isolation, the artists in Solitarium consider contemporary human conditions through an incubation of loss, body, culture, and memory. A room which protects and isolates from outside elements, a solarium presents space as open to viewing the world yet shut off; preserving while secluding. A place to grow while accepting confinement. A place of comfort to let in the right amount of discomfort. An 'in-between' space. Conflating two disparate structures, Francisco Berlanga, Alex Gibson, Tiffany Law, Jesse Ross, and Morgan Sears-Williams explore states of solitude and growth as intertwined aspects of human life.
Together the artists in Solitarium question the lines between solitude and community, between the human desire to reach out, yet turn away. Through voluntary isolation, the body might find new avenues for growth, offering room to contemplate conflicting modes of resistance and receptivity which entwine to create psychological collisions. Much like heat from the sun intensified through an index of glass, so too might the act of self-concealment accelerate a way forward.
We acknowledge that the creation and presentation of these works take place on the traditional, ancestral, unceded territory of the xʷməθkʷəy̓əm (Musqueam) people.