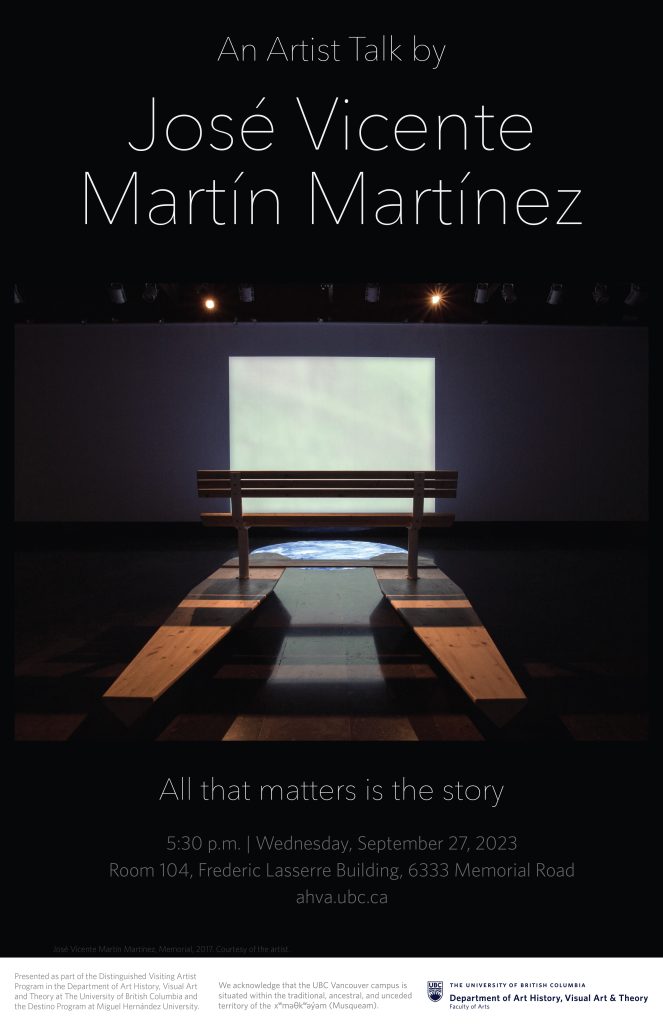 All that matters is the story
An artist talk by José Vicente Martín Martínez. 
Wednesday, September 27, 2023
5:30 p.m.
Room 104, Frederic Lasserre Building 
6333 Memorial Road, University of British Columbia

This event is free and open to the public.   
This lecture will examine José Vicente Martín Martínez's art projects from 2008, when he abandoned his early figurative paintings to focus on a more interdisciplinary approach with the interest of exploring how narratives shape reality. 
The talk will focus in particular on the projects: Homunculi and demons (2008), based on a drama written by the artist; the video installation Memorial (2017), inspired by the dedicated benches of Stanley Park; the speculative object Blurring glasses (ut visio poesis) (2017); Where nothing happens, variations on filmic discontinuity (2022), which followed a media archaeological approach; and the editorial project Tomorrow we will leave for the North (2023), a trip book.
José Vicente Martín Martínez (b. 1968) is Professor of Painting at Miguel Hernández University, Altea Campus in Spain.  
His career as an artist started with figurative painting in the nineties, but he has progressively expanded the range of media he uses to include video, installation, speculative objects, and editorial projects. His work explores how narrative strategies configure reality, and how the social and the individual imaginary are shaped by medial rhetoric, techniques, and devices. This evolution relates to his research into topics that include media archaeology and narrative strategies, and their relationships with art practice.  
Since 1993, he has presented a number of solo exhibitions, including: Galería Buades, in Madrid (1995); Club Diario Levante, Valencia (Well worth the flight, 1993); University of Valencia (The shrinking man, 1995); Muelle 27 Gallery, Madrid (World of J.V. Marjov, 2003); Espai d'Art "La Llotgeta," Valencia (Homunculi and demons, 2006); Fish Market of Alicante, Spain (Memorial, 2017); University of Umeå, Sweden (The end of the biography, 2018); and Fundación La Posta, Valencia (Where nothing happens, variations on filmic discontinuity, 2023). 
He has participated in numerous group exhibitions, notably Muestra de Arte Joven (Madrid, 1993), Muelle de Levante (Madrid, 1995), Plural. The Spanish art in the 21st century (Madrid, 2002), Imago Mundi. Spain Identity / Modernity. Luciano Benetton Collection (Venice, 2015), and XIII Premio de Videoarte (Astillero, Spain, 2020). 
http://www.josevicentemartin.com
Image: José Vicente Martín Martínez, Memorial, 2017. Courtesy of the artist.
Presented as part of the Distinguished Visiting Artist Program in the Department of Art History, Visual Art and Theory at The University of British Columbia and the Destino Program at Miguel Hernández University.