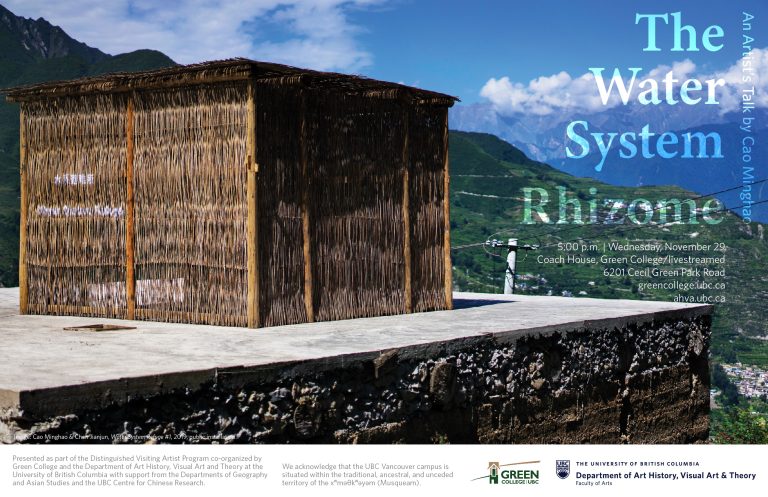 The Water System Rhizome
An artist's talk by Cao Minghao
AHVA Distinguished Visiting Artist
Wednesday, November 29, 2023
5:00–6:30 p.m. with reception to follow
Coach House, Green College, and livestreamed
6201 Cecil Green Park Road, University of British Columbia
greencollege.ubc.ca
Durational water-system practice – rooted in local field investigation, research, and knowledge exchange – is important both to a good understanding of the relationship between a place and traditional knowledge, and to the discussion of the diversity of geo-social contexts. This generative practice of art-based research goes beyond the ways in which a natural environment is defined through predictive and conceptual means.
In this presentation by Cao Minghao, she will elaborate on the ways in which she and her collaborator, Chen Jianjun, ground their work through long term research and find a particular site as the basis of their ecological practice. In their work, they attest that any place, any subtle details of the water system rhizome, can become not only a potential method for discussing and exploring deeper environmental issues but also an impetus to build a mutual alliance among the earth's ecologies.
Artists and transdisciplinary researchers Cao Minghao and Chen Jianjun currently live and work in Chengdu. Their art practices are research-based and process-oriented, highlighting the reciprocal collaboration between the artists and their partners. Dedicated to the dialogical relationship between the realities and the survival of myriad things, their practices grow from a space of entanglement in between the material ecology of waters and the current socio-environmental realities of humankind. Tapping into this space largely untouched by existent inquiries, they explore the vicissitude of ecologies and the re-imaginaries of the future. The entanglement space indicates neither a reactionary and passive way to protect water nor a conservative view that only emphasizes human society and its survival, but rather how we can reconstruct our comprehension of the future and countless possibilities between material ecology and human society. Practicing multiple visual narrative methods through long-term, site-specific art making, they build up a momentum for the alliance among all beings. Their projects have been shown in exhibitions and at screenings throughout Asia and Europe, including documenta fifteen in Kassel (2022), Rethinking Nature at Madre Museum (2021–22), the 13th Shanghai Biennale (2020–21), COSMOPOLIS #2.0: Repenser l'humain at the Centre Pompidou, Paris (2019), and Cosmopolis #1.5: Enlarged Intelligence in Chengdu (2018). They won the 2022 Jonathan KS Choi Foundation Contemporary Art Award and the Cité Internationale des Arts de Paris: 2020. Their 2021 works are in the permanent collection of the Museum of Contemporary Art Shanghai.
Presented as part of the Distinguished Visiting Artist Program co-organized by Green College and the Department of Art History, Visual Art and Theory at the University of British Columbia with support from the Departments of Geography and Asian Studies, the UBC Centre for Chinese Research, and Canton-sardine.
We acknowledge that the UBC Vancouver campus is situated on the traditional, ancestral, and unceded territory of the xʷməθkʷəy̓əm (Musqueam).
Image: Cao Minghao & Chen Jianjun, Water System Refuge #1, 2019, public installation.