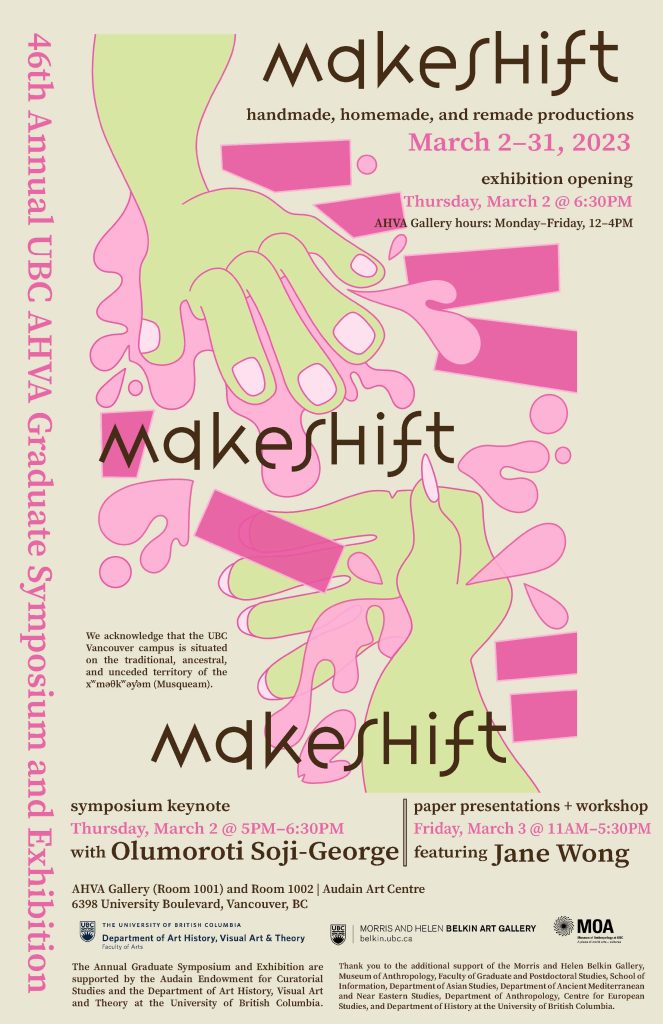 46th Annual University of British Columbia, Art History, Visual Art and Theory Graduate Symposium
MakeShift: handmade, homemade, and remade productions
Friday, March 3, 2023
11:00 am – 5:30 pm| Audain Art Centre, Room 1002
Endnote presentation by Jane Wong at 4:00 pm
Audain Art Centre
6398 University Blvd

The 46th Annual UBC AHVA Symposium and Exhibition Committee presents MakeShift: handmade, homemade, and remade productions, a processing of collectively shared anxieties about the rise of visualizations generated with artificial intelligence technology and various automated messaging systems. Co-chaired by graduate students Morgan Sears-Williams, Maya Rodrigo-Abdi, Laney Agodon, and Gulmehar Dhillon, this year's event proposes a material-focused and making-oriented shift in the ways in which we engage with art. MakeShift will make space for further dialogue concerning artistic practices that work to resist commodification, gendered divisions of labour, and other/ed objects found in our materialist dialectic.
Following graduate student paper presentations, an endnote presentation led by poet, memoirist, and interdisciplinary artist Jane Wong (Western Washington University) will commence at 4:00 pm. This talk will feature a collaborative workshop, Seaweed Song: Making and Remaking Poetry, where participants will weave a community book out of seaweed, thread, and poetry. Wong will also share work from her 2019 exhibition at Frye Art Museum, After Preparing the Altar, the Ghosts Feast Feverishly, and speak to the poetics of nourishment, re-envisioning form across mediums, process-based play, and honouring the labour of her family.
Schedule:
Thursday, March 2, 2023
Keynote speaker: Olumoroti Soji-George
5:00 – 6:30 pm
"Exquisite Corpse"

Friday, March 3, 2023

Lost and Found Objects Panel
11:00 am – 12:30 pm
Bronwen Cox (University of Toronto)
"Subjects of Desire: Surrealist Objets and Female Subjectivity"
Nathan Clark (UBC)
"Poetry in Fragments: The Paradox of Place in Cecilia Vicuña's Pueblos de altares (1990–2019)"
Capitalist Ruin Panel
12:30 – 1:30 pm
Gwenyth Chao (Emily Carr University of Art and Design)
"Making with and Thinking through Compost"
1:30 – 2:30 pm Lunch Break
Processing Place Panel
2:30 – 3:45 pm
Ashar Mobeen (University of Western Ontario)
"Wonders of the Ancestral Puebloans: Astronomers, Engineers, and Magicians of the Four Corners"
Allison Mander-Wionzek (UBC)
"Migration to Stable Ground: Trance and Wandering in the Films of Stacey Steers and Caryn Cline through the Lens of Bruno Latour's New Climatic Regime"
Endnote Presentation and Workshop
4:00 – 5:30 pm
Jane Wong (Western Washington University)
"Seaweed Song: Making and Remaking Poetry"
We acknowledge that the UBC Vancouver campus is situated on the traditional, ancestral, and unceded territory of the xʷməθkʷəy̓əm (Musqueam).
This symposium is made possible by the generous support of the Audain Endowment for Curatorial Studies and the Department of Art History, Visual Art and Theory at the University of British Columbia. Thank you to the additional support of the Morris and Helen Belkin Gallery, Museum of Anthropology, Faculty of Graduate and Postdoctoral Studies, Office of the Provost and Vice-President Academic, School of Information, Department of Asian Studies, Department of Ancient Mediterranean and Near Eastern Studies, Department of Anthropology, Centre for European Studies, and Department of History.