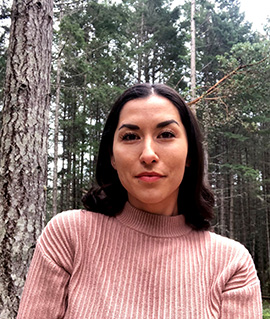 The Department of Art History, Visual Art and Theory is excited to announce Camille Georgeson-Usher's appointment as an assistant professor (tenure-track) in art history, specializing in modern and contemporary Indigenous art. 
Camille is a Coast Salish / Sahtu Dene / Scottish scholar, curator, and writer from Galiano Island, BC. With a focus on contemporary art history, she received her PhD in cultural studies from Queen's University and MA in art history from Concordia University. 
"I am thrilled to be joining the Department of Art History, Visual Art and Theory at UBC. Coming back to Vancouver, where my family is from and still lives, is incredibly exciting and I am thrilled to continue expanding my research and projects on my homelands. I look forward to working with all the students and my new colleagues, and getting reacquainted with the UBC campus and city of Vancouver."
Bringing an Indigenous perspective to her research, Camille considers the ways in which people move together through urban space, how public art becomes a site for gathering, and intimacies with the everyday . She uses her practice as a long-distance runner as a methodology for embodied theory and an alternative form of sensing place. 
Camille will teach courses at both the undergraduate and graduate levels in the upcoming academic year, including a second-year lecture in term 1, ARTH 262: Indigenous Arts of North America, and a grad seminar in term 2, ARTH 561A: Studies in the Indigenous Arts of the Americas.
In addition to her academic work, Camille serves as co-chair of the Toronto Biennial of Art, is a board member of the Galiano Island Literary Festival, and sits on several advisories and committees across academia and the arts sector. She is an independent artist and curator who is currently completing a public art piece for Open Space in Victoria, BC, where she is investigating the history of the city's coastline in tandem with the proliferation of invasive species and how they change the ways we travel across space. Camille is also an award-winning writer whose work merges theory with poetry and, at times, science-fiction. She has been published widely across academic books, magazines, arts journals, and exhibition texts.